I'm loving this Tuesday link-up and reading everyone else's 10 things on Tuesday. I am so lucky and had my work schedule change after the holidays so that I could be home with Harper more so I have Mondays off. This also means that I try not to do too much blogging on Mondays so having a Tuesday post I can think about and schedule ahead of time has been awesome! And because I love
Karli
so much, and I LOVED her post last week, I decided to follow her lead and share my 10 favorite blog posts!
I can't believe I've been blogging for close to 3 years. I have taken breaks now and then and definitely seen ebs and flows of the blogging world, but it's fun to look back on everything I've shared in this little space of mine!
Basically the best vacation ever!!
Wine Making - Homemade Pinot Noir & Blackberry Wine
You could say my husband has a slight addiction to wine, which has turned into not only helping at a
winery during harvest
, but making his own at home. I knew I should have never bought him that at home beer making kit for his birthday! (oh wait, what am I saying? I get to enjoy the wine too!)
Ceremony - Oregon Vineyard Wedding
Obviously our wedding day had to land somewhere in my favorite posts. Even if I wasn't blogging when we got married, I still had to share about our special day after the fact!
Finding Our Harper Was A Girl
Our gender reveal party was just a small group of close friends and family. Both Dan and I had decided to wait till the party to find out what we were having with all of our favorite people. We both thought it was going to be a boy, so we were so excited and a little shocked when we popped that balloon and saw pink confetti! Such a special moment to share with all of our loved ones!
My
Maternity Photos
with Harper
We hadn't had any professional photos taken of Dan and I since our wedding day so it was so nice to be able to capture this exciting time in our life before our family of 2 became 3.
And of course next comes
Harper's Newborn Photos
I mean how could you not love looking at how adorable and little she was. Now 8 months later, this day seems like such a long time ago.
Kitchen Reveal
After such a long and stressful process of building our new home, I was so excited to share our kitchen reveal!
A Goodbye Letter To Our Crazy Neighbors
Read the letter and you'll understand :)
Our Vegas Babymoon
From $2000 room upgrades to fun shows and dinners this was a trip to remember!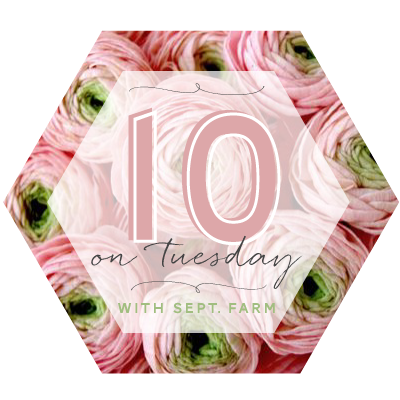 What are your favorite blog posts you've written or your favorites from my list? I'm a sap for pictures and reminiscing so share away!